Christopher Shaw, a senior-to-be at Washington State University, has been selected as the recipient of the 2013 NWGMA Scholarship, which is given annually by the Northwest Golf Media Association.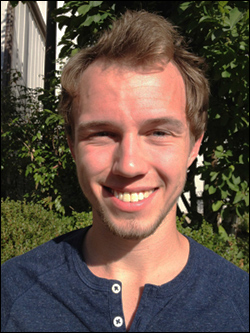 Christopher Shaw, recipient of the 2013 NWGMA Scholarship
Shaw, a 20-year old Journalism and Media Production major interested in a career as a TV sports announcer, is receiving $2,500 from the NWGMA. Shaw will be formally given the scholarship at the 14th Annual NWGMA Banquet, to be held this year at Inglewood Golf Club in Kenmore, Wash. on October 21.
A lifelong sports fan with the eventual goal of working for ESPN, Shaw has served as sports editor and columnist for the campus newspaper, The Daily Evergreen, and has also been a broadcaster and talk-show host on the WSU campus radio station, KUGR. He is from Banks, Ore., outside Portland and chose WSU because of the Edward R. Murrow College of Communication. Shaw is working this summer in the news department at KIRO-FM in Seattle.
The scholarship is open to all students who are entering their senior year at a Northwest college or university and who have demonstrated an interest and ability in sports journalism. The scholarship is posted at four-year institutions in Oregon, Idaho, British Columbia and Washington.
Jeff Shelley, co-founder of the NWGMA and longtime editorial director for Cybergolf, said, "When Bob Spiwak and I founded the NWGMA in 1995, one of my goals was to take the organization to a place where we could justify financially - through member dues and contributions - the creation of an annual scholarship for college students interested in writing about golf after graduation. It took 17 years to reach this goal by awarding our first scholarship last year, and it's personally very satisfying to continue this by having Chris be our second recipient."
NWGMA President Tom Cade said, "Chris got the nod over some other viable applicants. One thing that caught the eye of our committee was his already strong background and commitment to sports journalism, having already worked his way up to be sports editor of his college newspaper, as well as calling the play-by-play as a broadcaster for his college sports radio station. It was impressive."
"This is the second year we've given a scholarship," continued Cade. "Only students entering their final year of college are eligible because we want to help someone definitely interested in media get to the finish line, not someone experimenting with different majors or unsure what he or she wants to do. We see the scholarship as part of our organization's mission to encourage and assist media coverage of golf, and sports in general, in the Northwest and we're pleased to give it this year to Chris."
The majority of funding for the NWGMA Scholarship was arranged by NWGMA members John Tipping and Owen Hoskinson, who own and operate the Seattle Golf & Travel Show and the Vancouver (B.C.) Golf & Travel Show. They converted the silent auction at the Seattle show into a fundraiser for the scholarship, with one hundred percent of the proceeds going toward the students. "Their generous donation has made this scholarship possible," said Cade. NWGMA members also make cash contributions toward the scholarship, as well as procure items for the auction.