Congratulations to Kevin Kim, 2005 Rancho Santa Margarita Amateur Champion!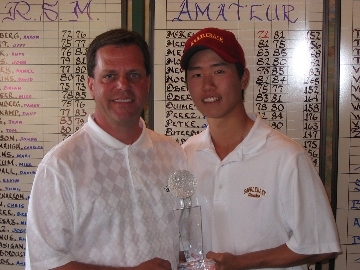 From Left to Right: Tijeras Creek General Manager, Rick Convertini,
presents Kevin Kim, 2005 RSM Amateur Champion, with the champion's trophy.
Kevin Kim of Lake Forest, California won the 2005 Rancho Santa Margarita Amateur held April 2-3, 2005. Kim shot one-under 143 to edge Cameron Tringale of Laguna Niguel, by two shots. Not only was Kim crowned the champion of the RSM Amateur, he also received an automatic exemption in the 106th SCGA Amatuer Championship to be held at Tijeras Creek Golf Club this summers. The RSM Amateur has established itself as one of the premier amateur events in Orange County. This event sets itself apart from the rest in many ways. The most important of which is that rounds take no longer than four hours and thirty minutes with most rounds finishing close to four hours. Tournament Director Dave Hopkins, and the team at Tijeras Creek Golf Club, strives to keep this an ongoing tradition by sending groups out in threesomes and having the tee times intervals scheduled nine minutes apart. The tournament committee has also placed clocks on the course set to the players starting time, another way for the players to keep a four hour and fifteen minute pace.
Past winners of the Rancho Santa Margarita Amateur include David Yoon who has since turned professional and Daniel Im. Each past champion shot a combined total of 140 or 4 under par on the 6918 yard, par 72 layout.
2005 RANCHO SANTA MARGARITA AMATEUR FINAL RESULTS
Tijeras Creek Golf Club, Rancho Santa Margarita, Calif
Par 72 – 6918 Yards
| | | | | |
| --- | --- | --- | --- | --- |
| | Sat. | Sun. | Total | Gift Cert |
| Kim, Kevin | 71 | 72 | 143 | $ 500.00 |
| Tringale, Cameron | 68 | 77 | 145 | $ 400.00 |
| Carlyle, Scott | 73 | 73 | 146 | $ 280.00 |
| Davis, Joey | 71 | 75 | 146 | $ 280.00 |
| Puterbaugh, Jason | 71 | 76 | 147 | $ 230.00 |
| Fieri, Joel | 80 | 68 | 148 | $ 188.33 |
| Goldberg, Aaron | 72 | 76 | 148 | $ 188.33 |
| Hess, Brian | 75 | 73 | 148 | $ 188.33 |
| Davis, Mike | 72 | 77 | 149 | $ 150.00 |
| Cunnerty, Bill | 77 | 73 | 150 | $ 130.00 |
| Kearns, Marc | 76 | 74 | 150 | $ 130.00 |
| Sugimoto, Masao | 77 | 73 | 150 | $ 130.00 |
| Amin, Rizal | 76 | 75 | 151 | $ 107.50 |
| Hoffenberg, Danny | 75 | 76 | 151 | $ 107.50 |
| Kendall, David | 76 | 75 | 151 | $ 107.50 |
| Zeuske, David | 75 | 76 | 151 | $ 107.50 |
| Bittick, Jason | 76 | 76 | 152 | $ 82.50 |
| Grant, Jeff | 75 | 77 | 152 | $ 82.50 |
| McKelvie, Kevin | 71 | 81 | 152 | $ 82.50 |
| Ober, David | 75 | 77 | 152 | $ 82.50 |
| Smith, Carl | 77 | 75 | 152 | $ 82.50 |
| Valley, Kyle | 75 | 77 | 152 | $ 82.50 |
| Chopra, Amit | 75 | 78 | 153 | $ 60.00 |
| Cook, Leigh | 73 | 80 | 153 | $ 60.00 |
| Simoni, Gerry | 77 | 76 | 153 | $ 60.00 |
| Cassidy, Jason | 78 | 76 | 154 | $ 42.50 |
| Dehuff IV, Bo | 74 | 80 | 154 | $ 42.50 |
| Kwon, Chris | 77 | 77 | 154 | $ 42.50 |
| Lopez, Joseph | 78 | 76 | 154 | $ 42.50 |
| Dwight, Ryan | 75 | 80 | 155 | $ 10.00 |
| Lederer, Brett | 77 | 78 | 155 | $ 10.00 |
| Thomas, Denny | 77 | 78 | 155 | $ 10.00 |