Cybergolf Non-Barter Tee Time System
Join the Revolution!
Golf Courses Around the Country Are Making the Switch!
Now you can offer online tee times for your customers without having to barter away tens of thousands of dollars of tee time inventory. Your golf course keeps 100% of the revenue, your course just pays a very small transaction fee that has an annual cap!
---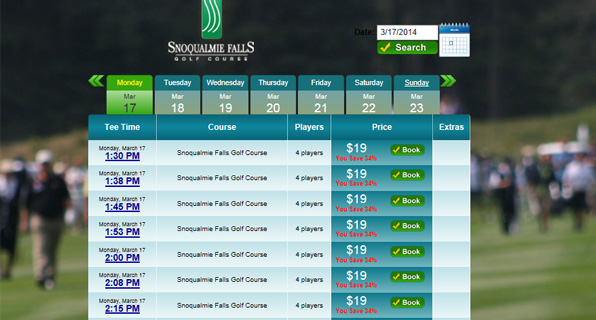 ---

The Cybergolf Tee Time System Includes:
Integrates with over 40 Tee Sheets and POS Systems
Full Electronic Tee Sheet Option
Email Marketing Tools to Send Your Tee Time Specials - Sell Your Tee Times via Email
Social Media Marketing Tools - Sell Your Tee Times on Facebook and Twitter!
Website Widgets to Help You Sell More Tee Times - Increase Revenue
Mobile Site Tee Time Booking in Just One Click - Mobile Tee Times Made Easy
Small Transaction Fee with Annual Cap - Lock in your Costs
---
For more information and to setup a Cybergolf tee Time demo, contact your Cybergolf representative at 877-640-7170 or info@cybergolf.com !
Thanks,
Team Cybergolf
---
New! Need a Great POS Option? Cybergolf now has a excellent POS option for you. Just let us know if you would like POS information and a Cybergolf represntitive will be in contact with you.
Cybergolf, 13024 Beverly Road, Mukilteo, WA 98275
You are on this e-mail list because you have opted in through our business.

Click here to unsubscribe
Mail this to a Friend